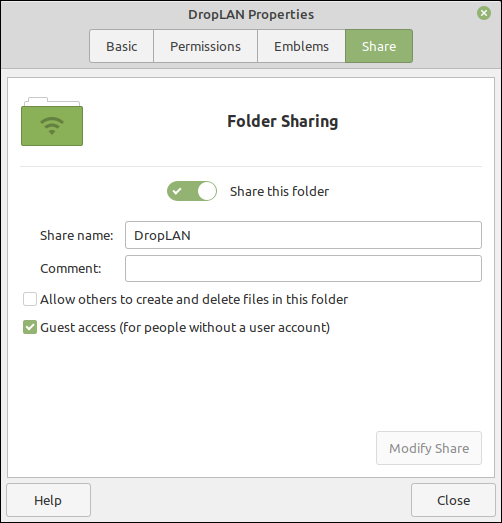 On Ubuntu, Linux Mint or similar distro, you can share folder via File Manager (GUI) for easy sharing to Windows 10 users
However, upon sharing, Windows 10 PC's unable to see your Linux PC's via Network
In this guide, I show you how to share and make it discovered!
Install Samba
Open Terminal and enter:
sudo apt install samba
After installing, add you into samba group:
sudo smbpasswd -a anime4000
Done! Now you can create share via File Manager, however your Linux are not visible on Windows Network Place.
Install WSD
Installing wsdd allow your Linux visible on Windows 10 Network Place, to install, follow this:
Download and unzip wsdd
wget https://github.com/christgau/wsdd/archive/master.zip
unzip master.zip
Copy wsdd into /usr/bin
sudo cp wsdd-master/src/wsdd.py /usr/bin/wsdd
Copy wsdd.service into systemd
sudo cp wsdd-master/etc/systemd/wsdd.service /etc/systemd/system/
Environment File
touch /etc/default/wsdd
Edit wsdd.service
sudo nano /etc/systemd/system/wsdd.service
Find and add ;
Comment ; User=nobody and Group=nobody, like this: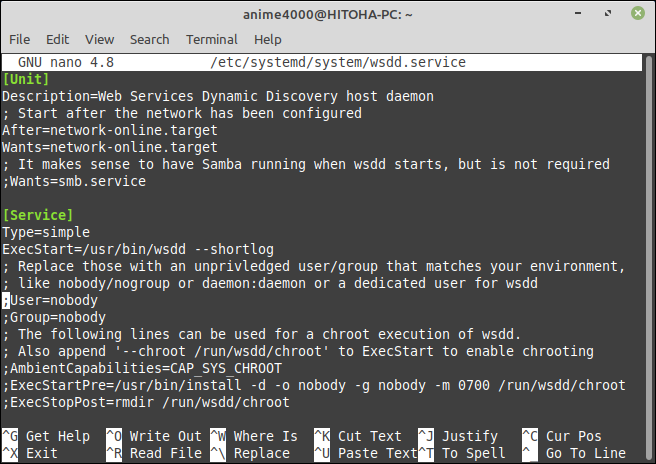 Save and Exit
Reload service daemon
sudo systemctl daemon-reload
Enable wsdd
sudo systemctl enable wsdd
Start wsdd
sudo service wsdd start
Done! Now your Linux showing on Windows 10 Network!
Check wsdd status
sudo service wsdd status
Build Samba from Source
First, download samba dependency
sudo apt install acl attr autoconf bind9utils bison build-essential debhelper dnsutils docbook-xml docbook-xsl flex gdb libjansson-dev krb5-user libacl1-dev libaio-dev libarchive-dev libattr1-dev libblkid-dev libbsd-dev libcap-dev libcups2-dev libgnutls28-dev libgpgme-dev libjson-perl libldap2-dev libncurses5-dev libpam0g-dev libparse-yapp-perl libpopt-dev libreadline-dev nettle-dev perl perl-modules pkg-config python-all-dev python-crypto python-dev python-dnspython python3-dnspython python-markdown python3-markdown python3-dev xsltproc zlib1g-dev liblmdb-dev lmdb-utils libdbus-1-dev python3-pip 
sudo pip3 install python-config
wget https://download.samba.org/pub/samba/stable/samba-4.14.2.tar.gz